Whiskeytown Home | The Cooperative Agreement | Why Remove Logging Roads? | Developing an Erosion Inventory for Road Decommissioning | Outsloping Peltier Valley Road | The Sediment Pond | Logging Camp Road Removal | Landing Removal | Conclusion |
Whiskeytown Logging Road Removal Project
Watershed Restoration and Logging Road
Removal in the Paige Bar Demonstration Watershed:
Whiskeytown National Recreation Area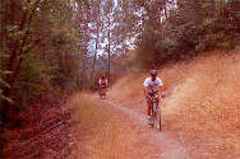 In 1996, the National Park Service and a Northern California community college initiated a demonstration watershed restoration project. The project was coordinated by John McCullah, President of Salix Applied Earthcare and instructor of the Shasta College Watershed Restoration Practicum. The following web pages will take you step by step through the process of developing and implementing a logging road decommissioning project.
Award Winning Project
In 1999, Whiskeytown NRA and Shasta College received an environmental conservation award from the National Park Foundation for their cooperative watershed restoration partnership.
| | |
| --- | --- |
| "During" decommissioning; recontouring the slope. | "After" decommissioning; the new recreation trail. |